Kembali ke Laman Pemenang
Kembali ke Laman Pemenang
Nyonya Chicken Kapitan & Roti Jala
MASA MEMASAK:
1 jam
SAIZ HIDANGAN:
5 orang
BAHAN-BAHAN:
Main
1 chicken, cut into 14 pieces
1 tsp salt
1 tbsp corn flour
1 tsp turmeric powder
Spice Paste
10 shallots
5 garlic
A thumb size galangal
A thumb size turmeric
2 candle nuts
1 tbsp belacan (shrimp paste)
3 stalks lemongrass, white part only
5 fresh chilies
10 dried chilies
Others
5 kaffir lime leaves, cut into strips
2 pieces dried tamarind
1 cup KARA Coconut Cream
½ cup water
Salt and coconut sugar to taste
Sufficient oil, for frying
Roti Jala
100g all-purpose flour
100ml KARA Coconut Cream
1 egg
1 tsp salt
¼ tsp turmeric powder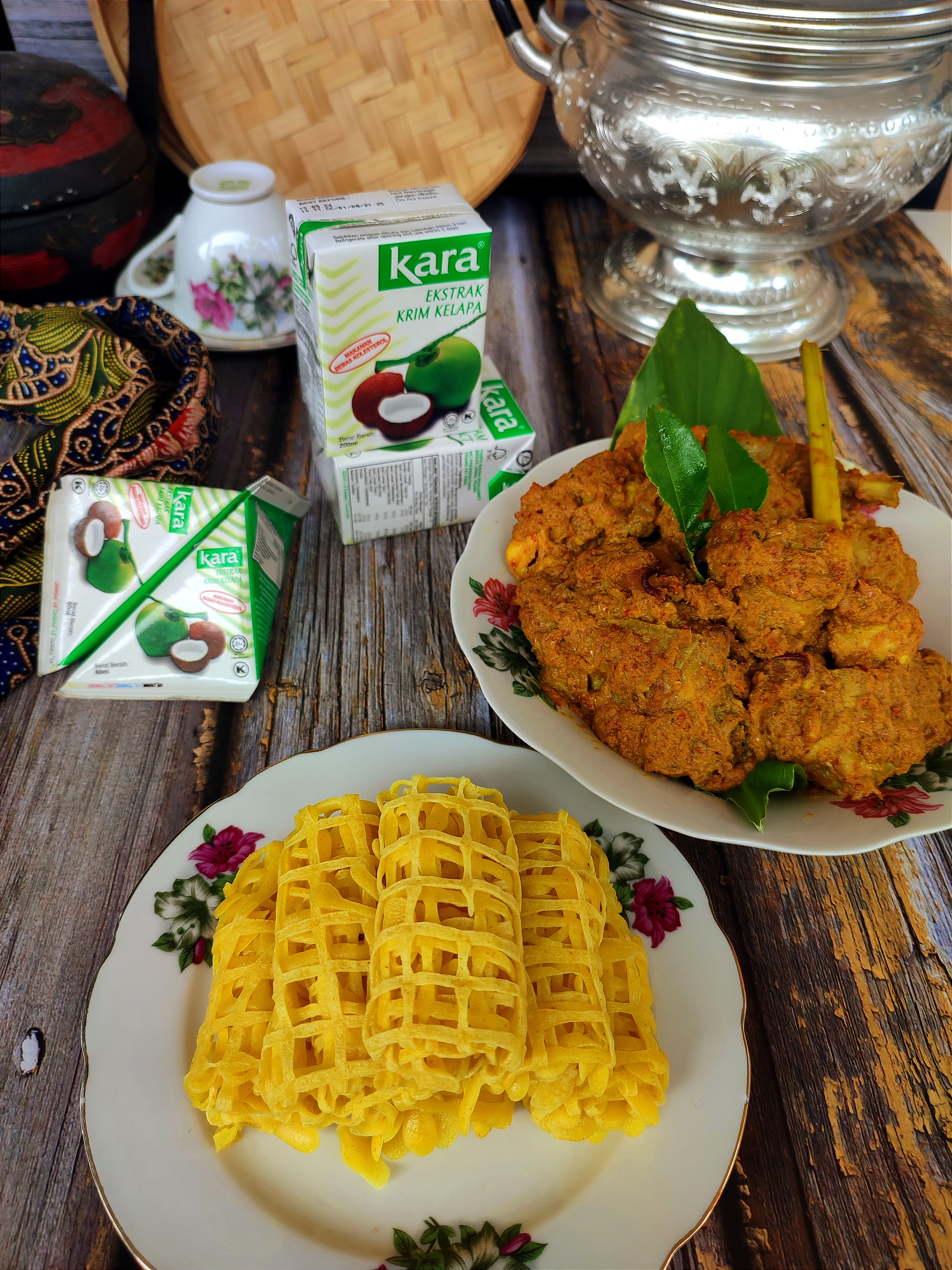 CARA MEMASAK
Nyonya Chicken Kapitan & Roti Jala
Chicken Kapitan
To marinate the chicken, mix turmeric powder, corn flour, salt in a large bowl. Add chicken and coat each piece thoroughly. Let them marinate for at least 30 minutes.
To prepare the spice paste, soak the dried chili in hot water for about 20 minutes or until softened. Put all ingredients for the spice paste in a blender and blend into a paste.
In a medium-size pot, heat up the oil. Fry the chicken in small batches until they are ¾ cooked and set aside.
In a wok, heat up 2 tbsp of oil. Pour in the blended spice and stir-fry for about a minute. Then add kaffir lime leaves and continue to stir-fry until the spice is aromatic and the oil starts to separate.
Add KARA Coconut Cream and water. Add the chicken pieces, dried tamarind, and seasonings. Bring it to a boil and then lower the heat to simmer uncovered until the chicken pieces are cooked through. Have a final taste and add more salt and/or sugar if necessary. The taste should be savory, slightly spicy, with a hint of sweetness and tartness.
Roti Jala
In a large bowl, whisk together flour, turmeric powder, and salt. Stir in beaten egg and coconut milk and continue whisking until a smooth batter forms. Strain batter into a measuring jug to remove any lumps. Pour Roti Jala batter into a bottle.
Heat a lightly greased non-stick pan over medium heat. Working quickly, invert the bottle and drizzle the batter in quick circular motions forming a netlike pattern.
Allow the pancake to cook for one to two minutes. Do not flip. Carefully remove from pan, fold in the sides, and roll up. Repeat until all batter is used up. Serve with Nyonya Chicken Kapitan.